TEFL jobs at EF English First provide you with the career opportunity of a lifetime. By teaching English as a foreign language, you will be able to enjoy a rewarding career, as well as immerse yourself in new countries and cultures.
From the moment you apply for your first TEFL job with EF, you will receive full support and guidance. Your recruiter who will guide you through the visa process step by step. You will get any training you may need, and we can even help you get qualified! Every year hundreds of teachers just like you take the leap and start a new job teaching English as a foreign language overseas. It all starts with an application.
English Teacher
EF Kids and Teens schools in Shenzhen
6 positions open
English Teacher
EF Kids and Teens schools in Chongqing
5 positions open
English Teacher
EF Kids and Teens schools in 60+ cities
Multiple positions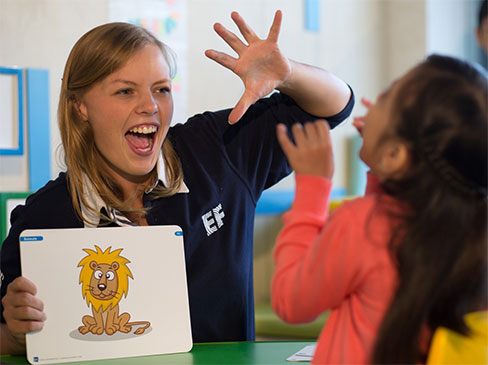 ESL teacher in China
China is one of the world's largest TEFL markets, and it's still growing! For experienced and newly qualified teachers, you can find a range of teaching opportunities around the country. EF English First currently has over 300 schools across 60 cities in China, so you will be able to find a teaching job in a city that suits you.

With EF, you can teach English to kids and teens, adults or even online in Shanghai. Once you are TEFL certified, you can enjoy a rewarding job, with opportunities for career advancement and even travel. As a foreign language teacher, you will be sure to get a competitive local salary with a comprehensive benefits package. Click the button below to learn more about ESL employment in China.
ESL teacher in Indonesia
ESL jobs in Indonesia are in high demand due to being one of Southeast Asia's most beautiful tourist destinations. But there's more to Indonesia than just tourism. Indonesia has a long and diverse cultural history. People from around the world have settled in many different islands. Indonesia is a cultural melting pot with food, language and architecture. Today, more and more foreign language teachers flock to one of the many islands for a piece of paradise, or to explore the vibrant cities.
Currently, EF English First has TEFL job openings in some of the major cities like Jakarta, Surabaya and Bandung. As well as in the more picturesque coastal locations like Bali and Malang.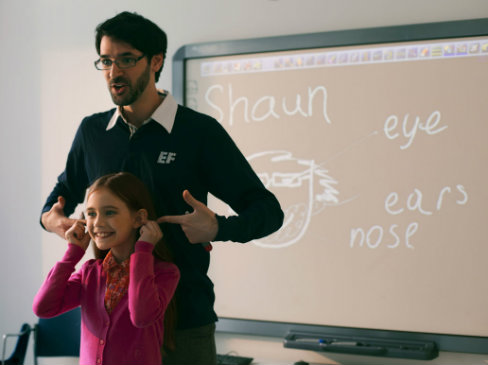 ESL teacher in Russia
The TEFL job market in Russia is still relatively small despite the country's size. But this could all be about to change. A recent national survey has indicated that younger generations are placing more importance on spoken English. If you are an open-minded go-getter, Russia could be the perfect country to start teaching English as a foreign language.
All positions come with come with competitive local salaries, regular days off, annual leave and training. Now could be the time to explore the worlds largest country!
ARRIVING AT EF
It doesn't matter where you would like to start a new TEFL job, you will receive full support from application to arrival from EF English First. After you submit your application, we will schedule a time to give you a quick call to understand more about you, where you would like to teach and which age group. From there, your recruiter will schedule an interview and guide you through the application process.

We know the first few weeks are really important. In these few weeks, you'll need time to adjust, find a place to live and settle in. To help, EF will provide you with free hotel accommodation for the first two weeks while you find your feet. During this time, you will go through orientation and training, and we'll provide you with the help you need to find a place to live.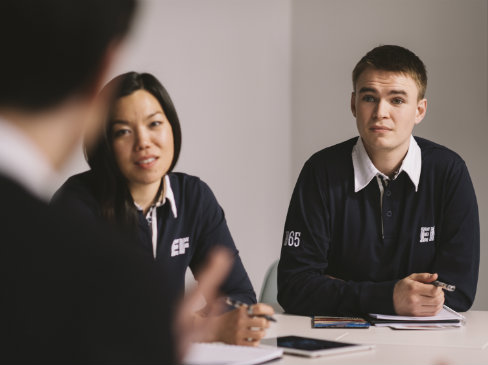 Certifications and Career Advancement
If you're new to teaching and you're not yet TEFL qualified, we can sponsor your TEFL certification which could save you up to $500. Once you have your TEFL, you will be able to take advantage of further professional accreditation, such as a CELTA, DIP TESOL, or even a management course. You can even benefit from our distance learning courses and sharpen your teaching skills.

Once you have been teaching with us for more than a year, you may find that you want to stick around and move into a more senior position. With EF, you can find further job opportunities in the ESL industry in areas such as course material creation, education management, and even recruitment and marketing. As a leading international education company, we pride ourselves on offering our teachers the chance to develop personally and professionally, and we hope this is something that you would like to take advantage of.